Scotch Tape Joints for Aerial Bundle 

Cables
Consists of a combination of various 3M tapes to
provide the electrical insulation build back the
semi conductive layer, stress control and shielding
properties of the joint.
3M self-bonding tapes provides a void free
insulation build-back for voltage withstand and
moisture protection.
Uses Constant force springs for continuity of the
armour and shielding of the cable.
3M Rubber and Mastic tapes are used to provide
the additional overlap on the cable jacket.
Laboratory tested and field-proven design. Meets
the requirements of IEEE 404, VDE 0278,
IEC 60502 and CENELEC HD 629 Standards.
Detailed drawings and instructions are supplied with each kit.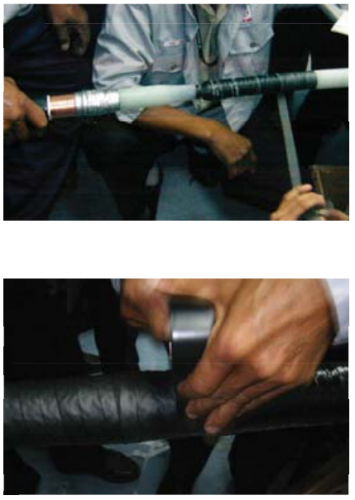 With 3M Scotch Tape Joints, you can insulate and moisture-proof any odd shaped and sized cable …
from 1KV up to 35KV. It is used for joining XLPE insulated single and three core cables with
Aluminium or Copper conductors.
The Scotch Tape Joints for aerial cable application utilizes 3M Electrical Vinyl Professional Use and Premium grade tapes that are UV and weather resistant as well as UL Approved. It also provides the
flexibility to incorporate the tape splice design with resin rejacketing for a 3M "Tapecast" resin pressure method or Mold and compound type splice for buried underground application which needs additional mechanical strength.
All 3M Scotch tape Splices are rated for 90ºC with 130º emergency overload provisions.

3M Armorcast Structural Material
To give additional mechanical and UV protection on the Aerial Cables,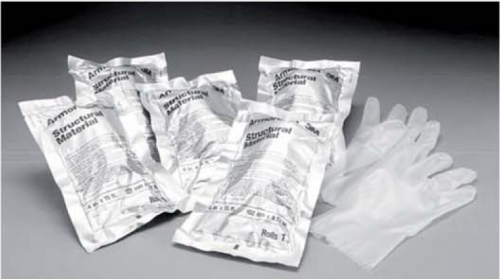 3M provides the option to combine the completed tape joint with with 3M Armorcast Rejacketing Kit No. AR-2.
Installation of AR-2 is quick and easy. No need for flame, electricity or chemicals. Perfect for all hazardous environments, including manholes.
3M Armorcast Structural Tape is a flexible fiberglass knot fabric strip saturated with resin syrup. No heat is required in the installation process, just water. It forms a tough durable covering that cures in 20 minutes. Provides structural strength, as well as cable and splice protection. For use on any cable jackets and sheath repair. The tacky, stretchy fiberglass reinforced material adheres both to itself and to polyethylene or lead sheaths.
Simple application. Quick and easy to apply without mess
Water activated resin. Gives control of set time
Durable. Strong, long-life, water-resistant and hard wearing
Light weight. The fiberglass construction of the tape allows for excellent mechanical protection without extra weight stress on the cables
Tack free. Gives ease of roll unwind during application
Resistant to moisture, fungus, acid, alkali, ozone, sunlight, gasoline and high temperatures
Conforms to irregular shapes and maintains the rigidity and shape
Application Instructions :
Wear a glove to protect your hands from the resin.
Remove the roll from the foil pouch and dip in cool water, squeezing once. This will allow four to five minutes curing time.
Option: You can also apply directly without first dipping in water.
The curing time is longer if it is not dipped in water.
Apply in a spiral motion. Overlapping by half to two thirds on each turn.
Mold to aid lamination and cast strength. Use some water to help smoothen the surface.
Let it cure and dry. Cables can be moved in 30 minutes time.